Massage Therapist Serving Cornelius, NC

Welcome to Solely Massage and Yoga. Please take a look around and I look forward to hearing from you soon.
When was the last time you did something for yourself? Something fun, something relaxing? If you really think about it, it has probably been a while. If you are like most people you either are not yet aware of the miraculous benefits of massage therapy or, if it has been a while since your last experience, the feeling might have faded. Good news because we are here to pamper you and refresh your memory! If you have been looking for the best massage in and around Charlotte, you've found it here at Solely Massage and Yoga. Our massage therapy studio is unlike any other in town. Known as home to the best deep tissue Ashiatsu Massage performed in Cornelius, North Carolina. We are here to help you achieve the best results for your physical and mental health.
The services we provide are extensive, ranging from traditional full body massage,  known as Swedish Massage all the way to specialized bodywork such as Cupping Therapy or Lymphatic Drainage Therapy. Whether you're looking for a deep tissue or therapeutic massage we can assess and meet your needs.
If you're sitting there wondering, "what is the best massage therapy for me", the answer to your question can be found at Solely Massage and Yoga. You've found us. Please let us support you in stepping into relaxation!
You need a massage and you know it!
Most of the time, especially these days, we all forget to stop and smell the flowers and take it back to the basics or have an appreciation for simplicity. This goes further when the subject of holistic medicine comes into play. More often than not techniques and services such as massage therapy are viewed as more of a luxury rather than necessity. If you take a closer look this could not be further from the truth! Massage therapy is one of the most natural forms of "medicine" out there.
Many people don't realize the importance of massage therapy and if the topic should cross their mind, questions such as whether or not it is worth it and if it will actually be beneficial for their health come into play. Massage therapy is one of the most basic fundamentals that contribute to your health. People have been practicing massage for thousands of years.  References go back to ancient writing describing the highest healers and religious leaders as experts in massage therapy.
Within human anatomy everything is intended to work in union. When there are underlying health issues that cannot be seen from the surface, considering starting with massage therapy is a wise choice. Things such as issues with sinuses or allergies can be assisted through the application of lymphatic treatment.  Additionally, whether we want to face it or not, stress is one of the most deadly things we can deal with. Over time it can cause physical symptoms such as headaches or fatigue and further down the line can be the reason behind health issues that are much more serious such as high blood pressure or stroke. The next time you find yourself trying to ease your pain with an Advil, stop, and first consider the root of the problem. This is where Massage Therapy and its importance come into play. Decreasing pain and reducing stress in the body are just a few reasons massage therapy is known to be one of the best forms of preventative and holistic forms of therapy!
Why Solely Massage and Yoga
Is The Best Massage Therapist in Cornelius, NC
Solely Massage and Yoga is owned and operated by a licensed massage therapist and bodywork professional with over 10 years of experience. Taking pride in treatments regarding all services, proper draping techniques, respecting boundaries, and supporting open communication are always a priority.  Offering a wide variety of modalities such as Thai massage allows guests the option of remaining  fully clothed and still receive a complete bodywork session.  We also schedule massages from a small 30 minute session all the way to a 2 hour session! Your time is important and we want you to feel relaxed.  There is always enough space between appointments so you will never feel rushed.  Essential oils and hot towels are available in all sessions for no additional charge.  This is why we are known as the Best Massage Therapy Studio all the way from Cornelius, NC to Charlotte, NC and and throughout the Piedmont.
Types of Massages and Bodywork
Whether this is your first massage or you enjoy receiving massage monthly we are able to tailor all massages based on your needs. At Solely Massage and Yoga the massage styles and other therapeutic modalities include: Swedish Massage, Deep Tissue Massage, Therapeutic Massage,  Pregnancy Massage, Reflexology, Ashiatsu Barefoot Massage and Himalayan Hot Stone Massage.  Other forms of bodywork include  Thai Yoga, Lymphatic Drainage Therapy and Cupping. We are more than delighted to walk you through any of the specifics of the individual processes and are here to make the services we offer a perfect fit for your holistic medicine and wellness needs.
Ashiatsu Barefoot Massage
Ashiatsu Barefoot Massage is found in many places in the world, but still limited in this part of the United States.  By using bars above the table as support, the therapist is able to use their feet in addition to  their hands during the massage.  This allows for long gliding strokes and compression of the muscles. Perfect for anyone who enjoys deep pressure, runners and athletes, and people who enjoy a relaxing massage.  Don't worry if you don't love deep pressure!  This style does allow very strong pressure but isn't always requested or necessary. Lymphatic results can be achieved when using Ashiatsu with lighter pressure!
When massage therapy comes to mind, the most common type and most often recognized form of massage is the Swedish massage. During this type of massage, clients will experience benefits such as increased flexibility, immune system support, general and specific pain relief, increased blood flow,and reduction of stress  and it's negative effects on the entire body.  By using long kneading strokes and other forms of mild compression massage techniques this massage provides clients with relaxation as well as tension relief.
Therapeutic Massage  is specifically aimed toward focusing on the reduction of pain within certain muscle groups.Various muscle groups retain stress within specific areas of the body and can cause pain throughout the entire muscular system as a whole. If left untreated or ignored this can negatively impact one's health. For example, therapeutic massages can help alleviate lack of mobility or  'frozen' shoulder. Therapeutic massages include neuromuscular, trigger point therapy, as well as myofascial massage. Specific pressure points are targeted in order to ease tension in areas that are connected within the muscle tissues and spine, ultimately breaking apart tension to allow your muscles to once again be at ease and function at an optimal level.
 Prenatal massages are performed with the mother-to-be laying on their side. Multiple pillows are used to give extra support, comfort and security. Pregnancy Massages are one of the most beneficial things a mother can do for both herself and her unborn child. This type of massage therapy is beneficial to both the mother and the child. 
Practices like pregnancy massage therapy aid in the general reduction of stress. This in turn relaxes both the mother and child. Gentle methods are used when performing this type of massage and can make pregnancy itself much more pleasant if you are experiencing things such as back pain, sciatic pain, or sore feet you can no longer reach! It goes without saying that during pregnancy, the body undergoes many changes. We're here to help you get through your pregnancy and feel your best every step of the way!
Lymphatic Drainage Therapy
The lymphatic system is a important part of good health.  The study of lymphatics is more recent then other body systems and we are still learning more every day.  Our lymph vessels and nodes work to filter toxins and remove waste from the body.  You may find swelling in a joint that has had a recent injury such as a rolled ankle, or you may feel pain or pressure in your face do to seasonal allergies.  Both of these conditions can be assisted in lymphatic drainage.  A very light touch is applied to the skin and directs the lymph flow in its draining direction. This therapy differs from massage in that it does not move muscle.  The touch is very light.  Many people ask can a light touch actually provide any results?  The answer is yes!  Incredibly relaxing, and yet refreshing at the same time.  Results that may be noted after a lymphatic session include increased clarity, improved mood, decreased inflammation, increased elimination, decreased abdominal pressure…..the list goes on! Often sessions begin with dry brushing and end with cranial sacral work. completing the client intake form thoroughly will help the therapist assist you in determining how this therapy can serve you!
Himalayan Hot Stone Massage
Himalayan Hot Stone Massage therapy is another effective way to improve relaxation and ease your muscles. The muscular systems within our bodies are extremely responsive to temperature as most people are well aware. When using methods that apply heat to the muscles such as hot stones this in turn entices the muscles to relax and loosen. Once this occurs it is much easier for professional massage therapists to work on massaging the areas in need. This is due to the fact that when applying heat the muscles will not only relax but stretch, as well as expand rather than contracting as they would when cold. The application of heat through hot stones is used within the practice of Himalayan Hot stone massages to increase mobility within the muscles in order to provide the masseuse with a muscle that is more workable. Not only this, but the heat of the stones will relax the entire body as a whole, allowing the muscles to gently glide back into place.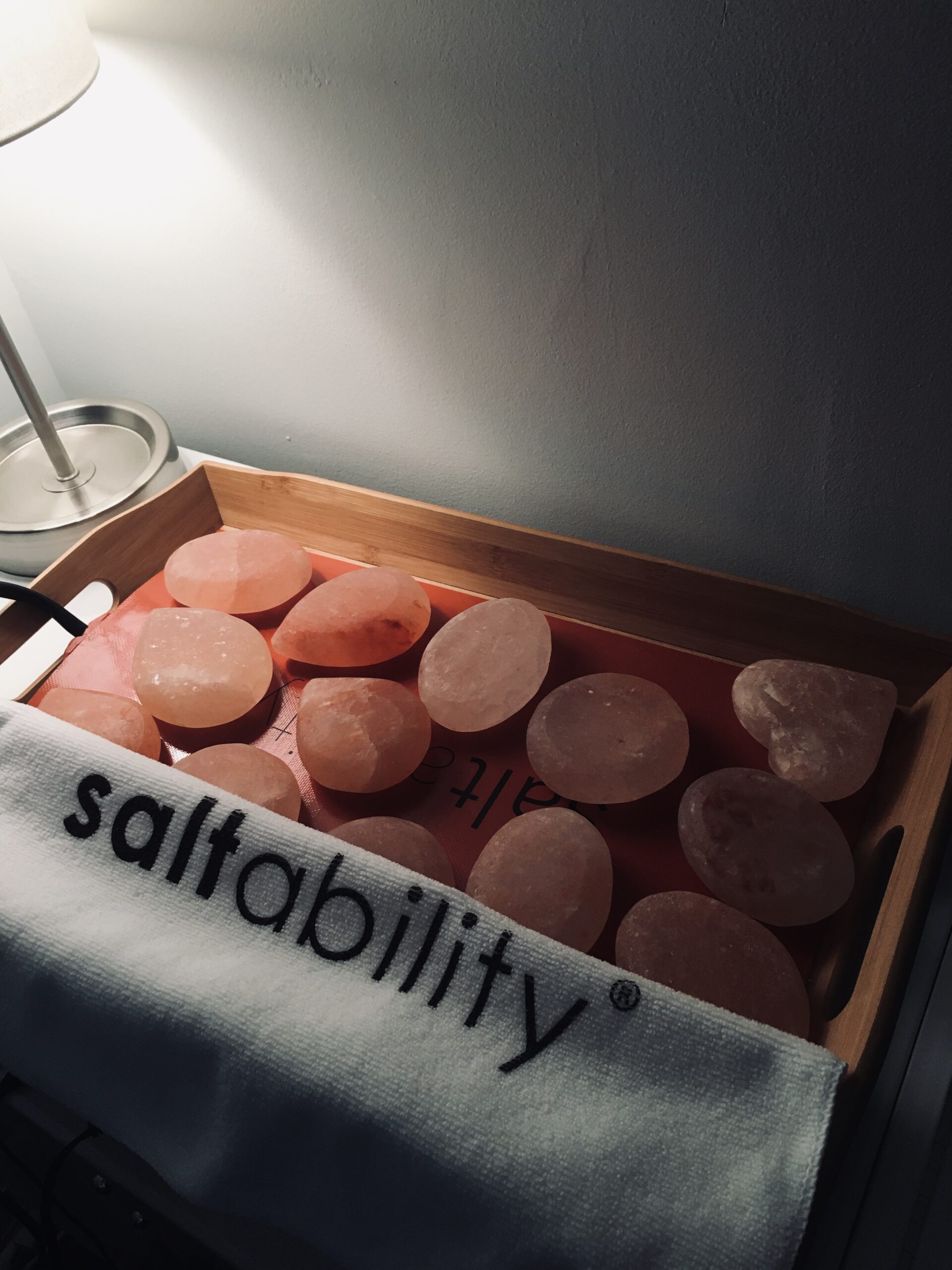 When people think of Cupping therapy they often think of Michael Phelps and his cupping circles on his upper body during his winning spree in the Olympics.  He  helped raise awareness in America on this powerful, yet ancient therapy.  Cupping has been preformed with bamboo shoots, bleeding, and even glass cups with fire! At Solely Massage we keep it simple and use plastic and silicone cups to create the healing vacuum effect.  This is great for increasing ROM, improving blood flow, promoting improved digestion, and many many more.  Can cupping leave marks? Yes, but it doesn't have to!  Using dynamic cupping and continuously  moving the cups during treatment helps eliminate the cupping marks while still taking advantage of its therapeutic effects.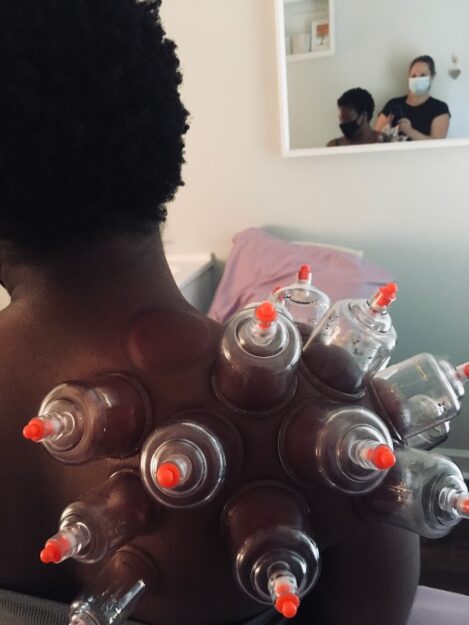 Thai Yoga
Thai Yoga, lazy yoga, assisted stretching, Thai Massage- this therapy has so many different names but one thing is for sure! It is fantastic! Here at Solely Massage Thai Yoga is performed on a comfortable cushioned mat on the floor.  Both the therapist and the client wear comfortable loose clothing allowing for fluid movement and full range of motion.  Compression is provided along the Sin Sen lines, know as energy lines in the body.  A person receiving Thai massage often feel like they are floating away on a relaxing cloud!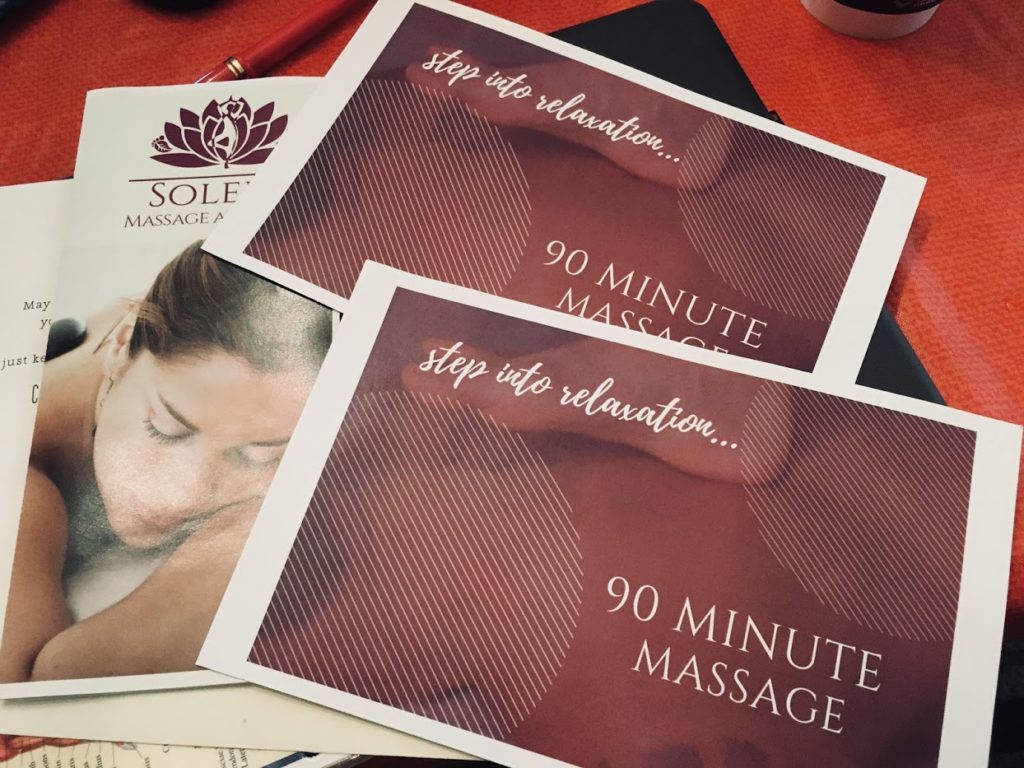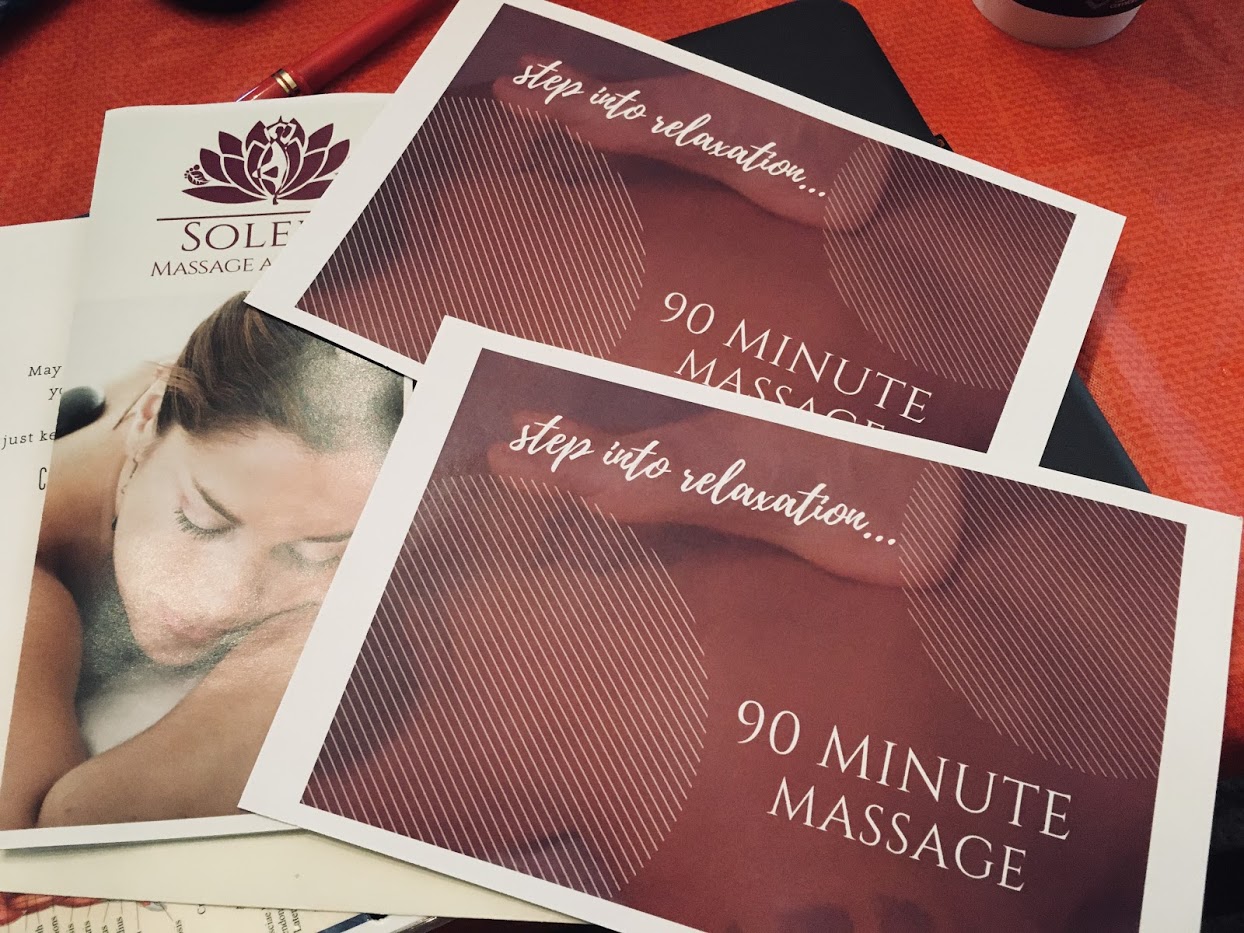 The gift of massage is always the right fit!