Massage Therapist
Serving Cornelius, NC

Welcome to Solely Massage and Yoga where you can step into relaxation…
Types of Massage and Bodywork
Whether this is your first massage or you enjoy receiving massage monthly we are able to tailor all massages based on your needs. At Solely Massage and Yoga the massage styles and other therapeutic modalities include: Swedish Massage, Deep Tissue Massage, Therapeutic Massage,  Pregnancy Massage, Reflexology, Ashiatsu Barefoot Massage and Himalayan Hot Stone Massage.  Other forms of bodywork include  Thai Yoga, Lymphatic Drainage Therapy and Cupping. We are more than delighted to walk you through any of the specifics of the individual processes and are here to make the services we offer a perfect fit for your holistic medicine and wellness needs.
When was the last time you did something for yourself? Something fun, something relaxing? If you really think about it, it has probably been a while. If you are like most people you either are not yet aware of the miraculous benefits of massage therapy or, if it has been a while since your last experience, the feeling might have faded. Good news because we are here to pamper you and refresh your memory! If you have been looking for the best massage in and around Charlotte, you've found it here at Solely Massage and Yoga. Our massage therapy studio is unlike any other in town. Known as home to the best deep tissue Ashiatsu Massage performed in Cornelius, North Carolina. We are here to help you achieve the best results for your physical and mental health.
The services we provide are extensive, ranging from traditional full body massage,  known as Swedish Massage all the way to specialized bodywork such as Cupping Therapy or Lymphatic Drainage Therapy. Whether you're looking for a deep tissue or therapeutic massage we can assess and meet your needs.
If you're sitting there wondering, "what is the best massage therapy for me", the answer to your question can be found at Solely Massage and Yoga. You've found us. Please let us support you in stepping into relaxation!
You need a massage and you know it!
Most of the time, especially these days, we all forget to stop and smell the flowers and take it back to the basics or have an appreciation for simplicity. This goes further when the subject of holistic medicine comes into play. More often then not techniques and services such as massage therapy are viewed as more of a luxury rather than necessity. If you take a closer look this could not be further from the truth! Massage therapy is one of the most natural forms of "medicine" out there.
Many people don't realize the importance of massage therapy and if the topic should cross their mind, questions such as whether or not it is worth it and if it will actually be beneficial for their health come into play. Massage therapy is one of the most basic fundamentals that contribute to your health. People have been practicing massage for thousands of years.  References go back to ancient writing describing the highest healers and religious leaders as experts in massage therapy.
Within human anatomy everything is intended to work in union. When there are underlying health issues that cannot be seen from the surface, considering starting with massage therapy is a wise choice. Things such as issues with sinuses or allergies can be assisted through the application of lymphatic treatment.  Additionally, whether we want to face it or not, stress is one of the most deadly things we can deal with. Over time it can cause physical symptoms such as headaches or fatigue and further down the line can be the reason behind health issues that are much more serious such as high blood pressure or stroke. The next time you find yourself trying to ease your pain with an Advil, stop, and first consider the root of the problem. This is where Massage Therapy and its importance come into play. Decreasing pain and reducing stress in the body are just a few reasons massage therapy is known to be one of the best forms of preventative and holistic forms of therapy!
Open Daily
By appointment only*
Phone:
Email:
janae@solelymassageandyoga.com
Address:
20200 Zion Ave Suite 3
Cornelius, North Carolina 28031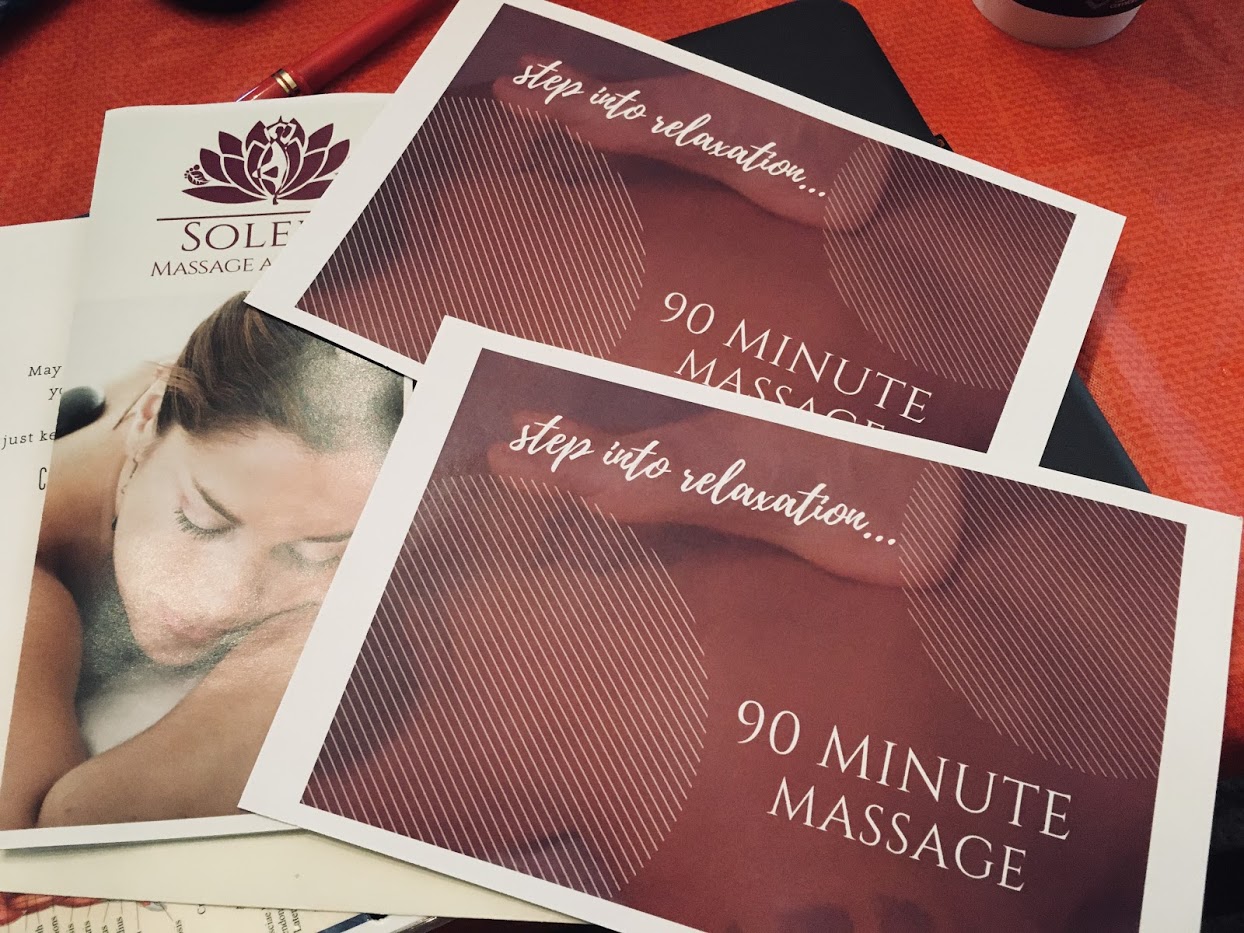 The gift of massage is always the right fit!
Why Solely Massage and Yoga
Is The Best Massage Therapist in Cornelius, NC
Solely Massage and Yoga is owned and operated by a licensed massage therapist and bodywork professional with over 10 years of experience. Taking pride in treatments regarding all services, proper draping techniques, respecting boundaries, and supporting open communication are always a priority.  Offering a wide variety of modalities such as Thai massage allows guests the option of remaining  fully clothed and still receive a complete bodywork session.  We also schedule massages from a small 30 minute session all the way to a 2 hour session! Your time is important and we want you to feel relaxed.  There is always enough space between appointments so you will never feel rushed.  Essential oils and hot towels are available in all sessions for no additional charge.  This is why we are known as the Best Massage Therapy Studio all the way from Cornelius, NC to Charlotte, NC and and throughout the Piedmont.